Another year for people to hurry along into the dustbin – and the one just ahead doesn't look at the outset to be much better, at least politically. But culturally at least, 2019 was a whole lot better than one comes to expect in Times Like These. So maybe pessimism about the immediate future is misplaced, though I'm keeping my cards hidden for now. Whatever the future holds, here once again is my own private top-ten of everything that got a rise out of me in the past year. And once again, they are in no particular order:
The Last Black Man in San Francisco – It's been a long time since I've seen a movie three times in the same year, much less have it grow inside my head with each viewing. The first time I saw it, I came away thinking of it as a lyrical, idiosyncratic meditation on the cumulative impact on gentrification and the ways it has, over generations, shattered whatever meaning to be found in the words, "home" and "roots." The second time I saw it, I listened closer to its dialogue, its depiction of families vulnerable to fault lines of denial, delusion and not-so-benign neglect. For whatever reason, the third viewing brought out in sharp relief the speech by budding playwright Montgomery Allen (Jonathan Majors) about the violent death of a friend and how whole lives, especially those belonging to young black men, are so often put in boxes by others and how it's left to those young men to break out of those boxes by themselves. It made me think of boxes I'd been forced to occupy and bust open on my own throughout my life and, in the context of Joe Talbot's debut feature, I started to wonder, with some distress, whether home, or even the desire for home, made up a kind of box that constrains one's best aspirations. I bet if I watched it for a fourth, fifth and seventh time I'd start thinking of other, different things to unsettle me. No matter how many times I see it, the one line that'll stay with me belongs, appropriately, to Jimmie Falls, the movie's star and co-screenwriter, who gently chides a bus-riding sourpuss for bad-mouthing the home town that's picked him up and slammed him down: "You don't get to hate it, unless you love it." Some movies are too small for the thoughts that contain them. But this movie has a soul big enough to set free hundreds of dreams, whether renovated or built from scratch.
Watchmen – "I'm not a Republic serial villain," Adrian Veidt/Ozymandias insists in the original 1986-87 Alan Moore-Dave Gibbons graphic novel just before he makes millions of heads explode in New York City. Damon Lindelof's sequel/reinvention for HBO made America's heads explode by fashioning a harrowing version of a 1940s Republic movie serial spiked with sex, drugs and sociopolitical science. Among the many miracles of this brash and daring venture, the most noteworthy may be how it shares with its source material the way it weaves pulp mythology of costumed vigilantes into an oddly plausible version of 20th century history, leaving us all in pretty much the same sorry, disheartening mess we're in at the precipice of true-life 2020. On a far less cosmic level, I have along with many others in the Twitter-verse found among many new reasons to love Regina King the way her character says "motherfucker" with the sweep and precision of a nothing-but-net three-pointer.
On The Media – I've long stopped watching nightly newscasts and would just as soon skip whatever the 24-hour news cycle has to offer at any given interval. But for the sake of whatever sanity I can maintain when dealing with the awfulness of the present, I never miss WNYC's inquiry into all things media. Week after week, co-hosts Brooke Gladstone and Bob Garfield, along with their doughty support team of editors and producers, manage, with probing intelligence and gimlet-eyed scrutiny, to get at whatever's been bothering me about the way things are and – mostly – aren't covered by what we used to call "the press." They are the go-to source for slicing and dicing though the smoggy mendacity of the Trump administration and its enablers. They secure your trust by chasing down truth, lies and, most of all, context. It isn't enough, for instance, to say that the justice system is dysfunctional. So they will give you the historical factors – cultural, political and racial – behind mass incarceration. And not just that issue, but also poverty, climate change, education, foreign policy and housing. The program's signature achievement in this especially estimable year was its series on "The Scarlet E," as in "eviction," one of many stories festering in post-Millennial America that doesn't get as much attention in the media biosphere as, say, whatever Bill Gates is or isn't doing with his money – even though they've got that covered like a blanket too. More than most of the media it holds accountable, this series fulfills the basic requirement for delivering the news by telling you things you didn't already know and reminding you of things too important to forget.
Once Upon a Time…in Hollywood & Dolemite is My Name – If I owned a repertory house or a drive-in, I would make these a double feature that I made sure to exhibit every year (late summer, I think). Though they're set a few years apart from each other near the hinge of the 1960s and 1970s, both movies appear to be conversing from opposite ends of the culture about a transformative era for American movies. Traditions that were either falling apart or recombining in Quentin Tarantino's iridescent alternate history of 1969 were pulled from back alley trash compactors by the working-class L.A. schemers and dreamers brought to merry life by director Craig Brewer and screenwriters Scott Alexander and Larry Karaszewski. The reinvention of Rudy Ray Moore (Eddie Murphy in what some keep insisting is a "comeback" even though he's never really gone away) gives off a giddy vibe of a rags-to-raggedy-ass-riches saga, a kind of  lounge-lizard's version of Up From Slavery with an upraised middle finger goading you to eat its dust. Once Upon a Time…is in a starkly different manner a Pilgrim's Progress saga, though you're left wondering at the end whether it's Leonardo DiCaprio's has-been TV western hero or Brad Pitt's deceptively blithe stuntman-handyman who's made the most progress. Such questions matter more than whatever conclusions some have extracted from Tarantino's vision – and it is more than anything a vision, whatever you want to make of its depictions of both imaginary and real-life characters.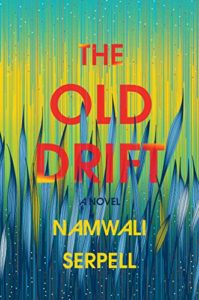 The Old Drift – My favorite novel of the year is best described by its author Namwali Serpell as "the great Zambian novel you didn't know you were waiting for." It begins with an implausible accident at the start of the 20th century involving three individuals in a hotel along the Zambezi River in what was then known as the Northwestern Rhodesia territory. The lives of their families – one African, one British, one Italian – are intertwined for what's left of that century and for several years into the 21st. In between, there are sagas within sagas; some dealing with a woman's hair that cannot stop growing and whose fallen strands make things grow out of the ground. Another story arc is based on the true-life effort by Zambia's "Minister of Space Research" to train his newly independent nation's best and brightest science students to beat both the Russians and Americans to the moon before the end of the 1960s. Eventually the tangled destinies of these and other characters are swept up by a public health calamity referred to here as "The Virus." Serpell's novel dares to imagine her native country into a technologically advanced near-future that is at once exhilarating and frightening in its prospects. Add to all this the constant presence of mosquitoes as both a kind of Greek chorus and vigilant corporate godhead and you have a willfully imaginative and (I almost forgot to add) gorgeously written contribution to the shelf of such novels as The Tin Drum, One Hundred Years of Solitude, Midnight's Children and (wothehell) Adventures of Huckleberry Finn that realize a whole country's heritage and destiny in a rich, capacious fictional narrative. I also forgot to mention that this is Serpell's first novel.
Kristen Scott Thomas on Fleabag — There was a lot to love about the second season of Phoebe Waller-Bridge's universally-acclaimed series, beginning (of course) with Waller-Bridge herself and her bemused, stressed-out and agreeably horny alter-ego stumbling and grappling through her fraught early thirties. I was all in on her Fleabag persona throughout her search for love, even if the approach-avoidance thing with The Priest (Andrew Scott) began to grate for reasons having nothing whatsoever to do with its presumptive "impropriety." For all its humane and bittersweet wit, the series, for me, glowed brightest in the approximately five minutes Fleabag spends in a bar with Belinda (Thomas), a corporate mogul fleeing a cocktail party in her honor. Over martinis, Belinda gives Fleabag – and us – the gift of her wisdom about things like menopause, why women are better able to deal with pain than men and the categorical imperative to flirt. Never before have I (and, I'm betting, anybody else I know) seen Kristin Scott Thomas so juicy, so fired-up-funny and lit-from-within as she is here. No wonder Fleabag makes a pass at her. We all would. But instead of a tumble, Belinda bestows to Fleabag something more precious by declaring, "People are all we've got." And in case you didn't hear her, she repeats, "People. Are. All. We've. Got." Much as you don't want to agree (and almost everything else about the series encourages you not to), you know, deep down, that she's right about this, along with everything else she's laying down.
Rolling Thunder Revue: A Bob Dylan Story – A word to those who insist on believing that Martin Scorsese's meta-mixing of imaginary sidebars to the actual Rolling Thunder tour conducted by Dylan during the Gerald Ford administration is somehow contiguous to the "fake news" ethos abetted by the Right. That word is, to be polite as possible about it, no. The movie states its business at the outset: what else would an old magic trick be doing there? If you can't tell from jump street that it's playing fair with its variations on a theme, that's on you, not on Scorsese and not on Dylan. I may disagree with the latter's typically gnomic pronouncement that wearing a mask is a means of telling the truth. (As with much else with Dylan, he borrowed that observation from someone else; Oscar Wilde. I believe, in this case.) But the movie's mischief is nonetheless consistent with a rock music tour whose whole concept was steeped in shadows, disguise and craftiness. Those whoppers with Sharon Stone and Jimmy Carter may rankle the literal-minded. For me, the movie's willingness to tease at and toy with the parameters of literal and figurative storytelling is far less a concession to the present-day political madness than a provocative means of climbing out of the smog. To elaborate: I remember going to a November 1975 Rolling Thunder gig at the Hartford Civic Center deep in the doldrums of economic blight, especially in down-and-depressed New England, and coming away from the show feeling buoyed and even cross-eyed hopeful about the immediate future. Which is sort of how I felt when this movie was over. I can't tell you why any more than I could explain my reaction back in the day. It may have something to do with being more open to possibility and risk than to cloistered indignation and fear. Or maybe it has something to do with whatever Allen Ginsberg is telling us all to do at the end of this film: "You who saw it all or who saw flashes and fragments, take from us some example, try and get yourselves together, clean up your act, find your community, pick up on some kind of redemption of your own consciousness, become mindful of your own friends, your own work, your own proper meditation, your own art, your own beauty, go out and make it for your own Eternity." Now you tell me: what does any of this have to do with whether something is fake-fucking-news or not?
In the Dream House – Imagine a warm-hearted Patricia Highsmith who retains enough delicacy and detachment to train upon herself as well as those around her. But Carmen Maria Machado's not writing a thriller – or more to the point, she's not writing just a thriller. Her memoir of a psychologically abusive relationship with another woman inhabits multiple genres and motifs. Its chapter headings conceive segments of this story, by turns, as a "road trip to everywhere," or "bildungsroman," "lesbian pulp novel," "creature feature," "comedy of errors," "sci-fi thriller," "soap opera," "American gothic" and "stoner comedy." There are also categories such as "hypochondria," "dirty laundry," "word problem," "queer villainy," "Chekhov's gun," "house in Iowa," "apartment in Philadelphia," "second chances" and so on. Maybe you can figure out a narrative of sorts from these clues. But Machado is not only engaging openly and honestly with personal pain, but probing for different ways to articulate it. In the process, she reinvents "memoir" itself as an arena for scholarly speculation, cultural inquiry, links to folklore, fairy tales and even an especially grisly episode of Star Trek: The Next Generation. She is using all her imaginative resources to get to the kind of truth promised, but intermittently achieved in more conventional memoirs. Besides Highsmith, you think of W.G. Sebald and Raymond Queneau and their experiments with narrative and reminiscence. The real thrill one feels in reading In the Dream House is in encountering a means of personal storytelling that is original and, in more ways than one, transformative.
Russian Doll – Nadia (Natasha Lyonne) is a brittle, habitually grouchy New Yorker who's in a unique rut. She keeps coming to at the same birthday party at a friend's apartment, leaves and, in some way or another (falling down stairs, struck by a car, blown up by a gas stove, etc.), dies soon after, only to find herself immediately getting ready to leave the same party and the same apartment for yet another "Appointment in Samarra." So far, so "Groundhog Day." But this Netflix series is different in many ways, not least because eventually Nadia finds that she's not the only one going through this. "I die all the time," a guy named Alan (Charlie Barnett) tells her as the elevator car they're sharing is about to crash to the ground. So now they're each other's chronic-death buddies, roaming the streets of Lower Manhattan in search of clues, patterns, some kind of rational explanation for their shared predicament before one or both of them get killed again. Somehow this feels less like a "Groundhog Day" variation than a post-9-11 version; one where New Yorkers feel stalked and at times overcome by the prospect of death from anywhere, but are somehow more intensely in pursuit of life. What makes this more than a clever conceit is Lyonne's magnetic presence. As with everything she does, Lyonne combines the brassy tempo of a thirties screwball-comedy heroine with the brainy poise of a fifties TV private eye. She keeps us on the edge of our seats even though we know she's never really going anywhere. At least, we hope not.
Little Women – Louisa May Alcott's novel is so durable and well-crafted that it's next-to-impossible to make a bad movie out of it, even if you were trying hard to do so. The challenge, however, comes in trying to find new ways of telling the story that doesn't mitigate its power to charm and move its audiences and Greta Gerwig, of whom I said two years ago (Lady Bird) had the stuff to be a great director, has deftly rearranged the March sisters' saga into fragments that shift back and forth through time. You notice Gerwig's innovations without being in any way thrown by them and the glue holding these elements together are the uniformly superb performances, perhaps the most subtly remarkable of which is Laura Dern as Marmee, who is at once remote and warm, imperious and giving; able to contain what she concedes is a deep well of anger over her circumstances while wearing her circumspection as though it were her own battle uniform. Gerwig's film arrives at year's end like an unexpectedly bountiful gift to her audiences, emotionally accessible, yet quirky in parts, especially in those dance sequences. But Gerwig does love dance and she's learning how to make her craft move to its own rhythms.
And now, as a public service to at least two people who've asked me about it, my own private top-ten movies of the 2010s. Once again, as with the preceding inventory, these are in no particular order. They are also submitted with no additional comment beyond those you'll (probably) find elsewhere on this site:
Moonlight (Barry Jenkins)
Toni Erdmann (Maren Ade)
Phantom Thread (Paul Thomas Anderson)
Only Lovers Left Alive (Jim Jarmusch)
Mad Max: Glory Road (George Miller)
Get Out (Jordan Peele)
Hell or High Water (David Mackenzie)
Lincoln (Steven Spielberg)
Cold War (Pawel Pawlikowski)
Moonrise Kingdom (Wes Anderson)
BEST DOCUMENTARY: The Act of Killing & O.J.:Made in America (tie).
BEST ANIMATED FEATURE: Spider-Man: Into the Spider Verse & The Shaun the Sheep Movie (tie).
BEST SUPERHERO MOVIE: See directly above.
FILMMAKER OF THE DECADE: Paul Thomas Anderson