Here's what I liked most about last year, period.  No added explanation necessary, though you're going to get a LOT of it as we move along. So without further ado, in no particular order, etc…
Black "Black Comic" Novels
 I'm already on record declaring this to have been a banner year for African American writing, especially in this sub-genre. So I have only a few things to add: 1.) I wish I could have found a way to have included in my CNN piece God Loves Haiti, Dmitri Elias Leger's cunning and deeply moving romantic roundelay set against the backdrop of Haiti's devastating 2010 earthquake though 2.) what I really wish for is a the chance to have met Fran Ross, author of Oreo, if only to reassure her, as others had before she died in 1985 at age 50, that she was neither alone nor wrong in her artistic foresight and socio-cultural insurgency. 3.) If Paul Beatty's cheeky, incendiary and laugh-out-loud Sellout had gotten even half of the attention afforded Ta-Nahesi Coates' Between the World and Me, we'd all be a lot further along than we are now because 4.) these and many other novels, poems and memoirs are so far ahead of where everybody else is on race and culture, especially what used to be called "The Press," that their authors don't have the time or the patience to look behind them. It's up to the rest of us to catch up…and I'm not feeling especially hopeful about those prospects as I write this, especially today.
Comic Book Superheroes on TV
You could probably fashion some kind of algebraic formula out of this theory and make yourself quite obscure, in more ways than one: Something about the comic-book superhero genre diminishes whenever contemporary Hollywood seizes one of its properties and blows it up on for big screen while, on the other hand, the smaller the screen, the greater weight and dimension are allowed for these stories. It could just mean that there are better people writing for television than for movies; a thesis that may not need too complex an algorithm to prove. Whatever the reason, TV, with or without its water-based delivery systems (clouds, streams, etc.) has provided the only superhero "product" (I really need to slap myself stupid every time I use that word) with depth, breadth and, most especially, shadows. I'd previously thought the DC stable led the way by several lengths with Arrow, Gotham, The Flash and its latest sweet surprise, Supergirl. But with the exception of Agents of S.H.I.E.L.D. (which, for all its on-the-fly tinkering, still seems as though it's fumbling in its pockets for magic and momentum), the Marvel Universe caught up big-time by going urban-neo-noir on Netflix with both Daredevil and the remarkable Jessica Jones coming at you as if every Law and Order episode came down with a severe case of the DTs. (And yes, that is a MAJOR compliment!) The relative success of small-screen super-heroics evokes simpler times when the original TV Superman was charming and cheesy while the first TV Batman was campy and cheesy and both took themselves seriously without being too solemn. Maybe the Fantastic Four franchise, having whiffed in two multiplex-targeted incarnations, would be better off lowering its expectations and looking for a cloud, or stream, to carry it forward. Or not.
Carol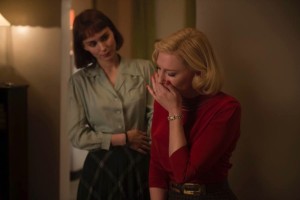 I suppose there was a small part of me that wished Todd Haynes had given in to his inner Douglas Sirk with as much abandon as he had in 2002's Far From Heaven, his previous exploration of "forbidden love" in the 1950s. There were many critics, even those who otherwise praised this movie, who felt the same way. The more I think about it, however, the more I believe Haynes was correct in opting for a mood of smoldering insinuation and rectitude since those are qualities most associated with Patricia Highsmith, who wrote the novel, The Price of Salt, from which the movie is adapted. She is a writer I will never love as much as I admire – and even then, from a shivery distance. If the movie leaves one cold, well, so did Highsmith. I'm not sure if anybody else could have done the material justice as well as or better than Haynes. Maybe the younger Kubrick since the movie at times evokes a colorized version of his 1962 take on Lolita; or, even better, the Alfred Hitchcock who made such gauzy dreams out of Vertigo or Marnie.
To Pimp a Butterfly (in the approximate, or relative context of Straight Outta Compton) –
The overlap of Kendrick Lamar's most variegated testament (thus far) with F. Gary Gray's astonishingly successful biopic/infomercial about N.W.A. made one ponder how much things have changed, if at all, between "Do I look like a muthafuckin' role model/To a kid lookin' up at me/Life aint nothin' but bitches and money" and "…[T]he world don't respect you and the culture don't accept you/But you think it's all love/And the girls gon' neglect you once your parody is done." The latter quote from Butterfly is, of course, more contemplative and lyrical than the more belligerent assertion of "the strength of street life" from the 1988 album that gives Gray's movie its name (and, really, its reason to exist.) Yet both these statements, and the records they come from, are stalked, even haunted, by the vulnerability of black lives as framed within the seemingly impregnable "White Problem" in America. Their shared response, in so many words: This is who I am, mothafuckas!! Deal with it because you got to change before I do! Both Butterfly and Compton (the album) also share the imperative to sound like nothing else that came before them. And their respective makers have profited from that make-it-new impulse; though it's clear from both the movie and the story it tells that N.W.A. has gotten over with its members' sometimes harrowing practice of rugged individualism while Lamar's still probing for something deeper and more messianic to carry himself and his listeners to a new, yet-to-be-defined phase of The Struggle. The real bridge between these two works is Lamar's "Alright," which stomps in with the "Gangsta Gangsta" swagger before morphing into an assertion of self-worth powerful enough to have made the song an anthem of the "Black Lives Matter" movement – and, potentially, of movements, or just "movement," to come.
The Americans
There were so many shattering revelations and shameful double-dealings in this series' third, and best, season that one feels derelict in highlighting only one episode. But the season's ninth episode, "Do Mail Robots Dream of Electric Sheep?," was one of the peaks of series television, not just of the year, but also of the century so far. Its main action takes place in a repair shop late at night where Elizabeth and Phil Jennings (Keri Russell, Matthew Rhys), Russia's most stylish spy tandem, have taken a broken mail robot to dig out some needed Intel. An unexpected surprise materializes in the form of an elderly woman (the great Lois Smith) who was married to the shop's original owner. She's just as surprised to encounter the Jennings and her bewilderment gradually evolves to a weary acknowledgement that she will not survive the night. Her presumptive executioners share in the gnawing awfulness of the situation especially Elizabeth, who attempts to ease the woman's impending fate with some intimate, reassuring conversation about family life and then with an excessive injection of drugs. It's an interlude that makes the audience feel somewhat like intruders – and co-conspirators. Even in a golden age of cable television drama, no other series could pull off such an emotionally searing sequence. I can't wait to see what the fourth season's going to submit for our approval.
Blooming Again 
It took a while for me to cozy up to Bloom County in its original 1980s incarnation. At the time, it seemed as though Berkeley Breathed's strip was trying too hard to conflate an assortment of influences from Peanuts to Pogo, from Lil' Abner to Doonesbury (especially) without developing a clear identity of its own. I also thought the comedy was too schematic and not terribly interesting (i.e. aging frat boy Steve Dallas hurling brazenly sexist overtures to super hot feminist schoolteacher Bobbi Harlow. Quelle Topique!) By mid-decade, though, the strip established its own blend of down-home whimsy, magical realism and soft-boiled satire distinctive enough to win a steady, fervent following – and a Pulitzer Prize!
Of course, The Penguin had almost everything to do with it. Breathed knew this since Opus was, for a while, the only character who made it to two sequels following the strip's closure in 1989. This past July, Breathed came out with a made-for-social-media revival of Bloom County with deeper shadows, broader effects and the same antic impulses. Smartass savant Milo Bloom and his irresolute, monster-haunted school chum Michael Binkley have barely aged beyond pre-adolescence while Steve Dallas is still a self-loathing dick and (thus) a Trump supporter. Binkley has fallen in unrequited love with an enchanting pint-sized yogi named Abby. Bill the Cat is still…Bill the Cat, only more so. And Opus is very much the sun around which the rest of the cast revolves, if not evolves. I didn't know how much I missed having these guys in my life until I started catching up with them on Facebook. And when I say the shadows are deeper this time, I refer to a recent storyline involving a small boy with an apparently life-threatening illness to whose elaborate space-opera fantasies the Bloom County gang caters. Breathed says he has no intention of bring his troupe back to newspapers and I think it's a wise move on his part.
I still wonder, though, whatever became of Ronald-Ann Smith from Breathed's Outland sequel strip. Is she the same age as well? Or did she grow up to become a semiotics professor at a Midwest college? I'm in no hurry to find the answer. I'd rather invent my own.
The Black Panthers: Vanguard of the Revolution 
My favorite documentary of the year may well be the most balanced, comprehensive and intensely felt history we'll ever get of its oft-misunderstood topic. Director Stanley Nelson's companion piece to his comparably thorough and illuminating Freedom Summer (2014) deftly weaves all the scattered, twisted fragments of Panther history from the group's epoch-making, armed-to-the-teeth appearance at the California legislature (which resulted in then-governor Reagan signing the country's first gun-control legislation) to its think-globally-act-locally agenda that both scared and thrilled the rest of America to its active harassment under the odious COINTELPRO scourge to its violent confrontations with police and the murder of Fred Hampton – who scared authorities, it's clear here, more for having his political act together at a very young age than for any largely imaginary danger he posed to civilization. Nelson doesn't shy away from the internal friction among the Panther hierarchy – and he's taken some heat for doing so. But none of whatever happened between Huey Newton, Bobby Seale, Eldridge Cleaver and others diminishes one's abiding admiration for what this cadre tried to accomplish – or the persistence of what they challenged, against terrible odds, almost a half-century ago.
Kate McKinnon
When Kristen Wiig left Saturday Night Live in 2012, I almost did, too. She gave the show a jolt of danger reminiscent of John Belushi, Eddie Murphy and (yes, even) Adam Sandler. As these examples suggest, such bomb-throwers are rare and I wasn't expecting anyone to come along that soon to provide a similar did-I-really-see-that buzz to the franchise. Then this ball-of-fire roars into 30 Rock's fun house and once again, America's on the edge of its seat wondering what this crazy person will do next. She had me, so to speak, at Justin Bieber. But her take on Hillary Clinton so thoroughly and scarily encompasses the aspects of Madame Secretary's personality feared by millions that you feel your own worst imaginings being held at gunpoint. (And that they deserve to be, too.) Madame Secretary's appearance on stage with her perversely avaricious doppelganger was one of the show's highlights, as much for showing the real-life candidate's impressive composure in not breaking character, or breaking-up during the routine; something that couldn't be said for Ryan Gosling a couple shows later. Enjoy her while she's there because, if past history is any guide, she's going to get so huge that she'll outgrow the fun house.
Philip Levine & James Tate
Sunday's New York Times reminded me that two of my favorite poets passed away during 2015. They seem utterly incompatible at a glance: Levine's poems were engaged with the grit, heartbreak and elusive epiphanies of blue-collar life while Tate was a deadpan emperor of ice cream who revealed strangeness in familiar things while exalting familiarity in strangeness. Yet reading their poetry gave me frissons similar to the contact highs I used to get from seeing American and European movies more than forty years ago. As I emerged from the theaters of the 1970s, my immediate surroundings attained sharper definition and broader possibility. Good movies, great art and fine poetry induce such rapture and, with the latter especially, you are grateful for those bright flashes of grace and insight whether delivered by the cosmos or summoned from the sidewalk. You need both perspectives to function as a human being, otherwise what's it all for? Don't answer. Just listen to Levine working up the nerve to dive into a reverie by declaring: "I place my left hand, palm up before me/ and begin to count the little dry river beds/on the map of life" ("Blue and Blue" from 1994's The Simple Truth). And dig Tate hard when in the title poem from his 1972 collection, Absences, he neatly sums up the autobiographical impulse: "A child plots his life to the end; and spends the rest of his days trying to remember the plot." Whenever you lose a poet (or two), you gain renewed diligence to respect the things not readily seen, including all the poets who are still around to sharpen the landscape.