It was the kind of year when the biggest, most-talked-about release in recorded jazz was a compilation of takes and outtakes from fifty-five years ago. It wouldn't surprise me to see Both Directions At Once at or near the top of some reviewers' lists for best new album since its 1963 sessions by the John Coltrane Quartet had never before seen the proverbial light of day. The album doesn't appear on this list, and I've already suggested why it won't. Still it was the kind of marketing triumph rarely seen in jazz music, pulling in a big, broad spectrum of listeners. Some older jazz heads told me Both Directions drew bigger crowds than Coltrane did when he was still alive – which sounds more than plausible.
Even with my misgivings, it was hard not to be caught up in the excitement Both Directions At Once aroused among listeners, especially those who weren't yet born when Coltrane died in 1967. Yet along with the excitement there was also a melancholy acknowledgment that Back Then aint the same as the Here & Now. Hearing the Coltrane quartet at a time when some of its greatest breakthroughs were just ahead reminded you that those early-to-mid-1960s were an era of expanding horizons and greater possibility.
And now? To paraphrase something one of my peers told me earlier in the year, we once lived in a time of transcendent, boundary-breaching improvisers. Now we live in an era awash in very-good-to-great players working well and even nobly within the standards set by giants. Every once in a while, one of them spins you around by making a sound you never heard before. (Number 4 on this list has been doing this since she emerged only a few years ago.) But maybe Gary Giddins was right when he wrote back in 1983 about the emergence of the Marsalis brothers and their contemporaries, "My intuition is that innovation isn't this generation's fate."
After almost forty years have passed and at least a couple more of waves of musicians have emerged, Giddins' assessment still sounds prescient, at least as far as improvisers are concerned. But there are other ways to be innovative. Throughout this period of revision and retrenchment, some of our most interesting jazz artists have devoted their energies to creating or, in Wynton Marsalis's case, refreshing contexts for jazz's presentation, whether by expanding the music's canon through jazz repertory or providing broader frameworks for presenting the music. Maybe you bring choirs along as part of your equipment, as Kamasi Washington does, or revise conventional horns-rhythm-section stagecraft as the late Max Roach once suggested – and as artists such as Esperanza Spaulding have been doing. It's the same kind of musical nation-building that Miles Davis, Charles Mingus, Art Blakey and Betty Carter used to do with their outfits and I'd like to believe that from these revised contexts, more than a few musicians will emerge and make all our heads spin the way John Coltrane once did, and still does.
Or…I could be wrong. Anyway, here's my list and I'm sticking with it:
1.) Steve Coleman and Five Elements, Live at the Village Vanguard, Vol. 1 (The Embedded Sets) (PI) – In Coleman's previous appearances on this list, I've described what he and his band are doing as an ongoing quasi-scientific inquiry into what he characterizes as biological processes, but are in reality groove dynamics and harmonic montage. The studio work has yielded encouraging and often earth-shaking results. But in a live setting, especially within the concave confines of jazz music's Holy Dive, everything the band does seems ramped up in intensity as if having live witnesses to its experiments goads Coleman, Jonathan Finlayson, Miles Okazaki, Anthony Tidd and Sean Rickman to raise their respective games. The overlapping dialogue between Coleman's scorching alto sax and Finlayson's slashing trumpet seems more colorfully serpentine on stage while the worlds-within-worlds polyrhythmic drive provided by bassist Tidd and drummer Rickman yanks you into the music's molten core and Okasaki's guitar sets off well-timed compression bombs. If your head can move to this group's percolating dramatic tension – and it should – your body will eventually follow.
2.) Wayne Shorter, Emanon (Blue Note) – This just in: THE MULTIVERSE EXISTS! If you doubt this, and you do so at your peril, you need to find the nearest available copy of The 3 Marias, a "prestigious publication" dominating a "one world reality" known as Logokrisia. Failing that, you'll just have to trust this one-of-a-kind artifact springing from the teeming brain of a comic-book nerd from Newark who grew up to become, among (many) other things, one of this year's Kennedy Center honorees. This combination of graphic novel and three-disc collection is a multiverse you can carry around the house or, if invited to do so, somebody else's. The title, which is "no name" spelled backwards , owes its origins to a Dizzy Gillespie tune and is given to the novel's mystical superhero. Described by Shorter and co-author Monica Sly as a "rogue philosopher," this Emanon travels from dimension to dimension to subdue fear and oppression in all its forms and replace them with knowledge and wisdom. The real mystery and suspense come with the music performed on the three discs by Shorter and his comparably intrepid sidekicks, pianist Danilo Perez, drummer Brian Blade and bassist John Pattitucci, spinning off motifs, ideas and even characters from the comic book ("Pegasus," "The 3 Marias," "Prometheus Unbound" etc.) The first installment has the quartet deploying its customary allusive interplay in tandem with the Orpheus Chamber Orchestra. At times the combination sounds like the soundtrack to a cryptic SF movie spectacular. But then, almost all of Shorter's compositions, going as far back as such grandly-conceived classics as 1965's The All-Seeing Eye and ahead towards such underrated pastels as 1985's Atlantis (where "The 3 Marias" first appeared) and 1995's High Life, are soundtracks to movies whose stories would be too inscrutable for Hollywood to attempt. The quartet carries on its sporadic, probing conversations on the other two discs, whose content is culled from a live London concert. Some listeners have complained that the music seems more tentative than they expected as a definitive statement from the greatest living jazz composer. (We'll argue that latter clause some other time.) But it all sounds pretty definitive to me, coming as it does from somebody whose teenage nicknames were "Mr. Gone" and "Mr. Weird." Listen to this music often enough and you'll find that its secrets aren't meant to be deciphered; only appreciated on their own slippery, shadowy terms.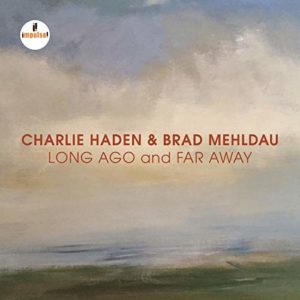 3.) Charlie Haden & Brad Mehldau, Long Ago and Far Away (Impulse!) – Up until his death in 2014, bassist Haden was always up for melding minds with other individual seekers of beauty and truth. This colloquy, recorded in 2007 at a jazz festival in Mannheim, Germany, may not be perfect (since nothing is), but it is gorgeous in the affecting manner of an early winter sunset or a lingering over-the-shoulder pivot towards a onetime lover you're certain of never seeing again. Haden knew a fellow romantic sensibility when he met one and Mehldau found in Haden's generosity of spirit a warm, safe haven for his vagabond lyricism and bold phraseology. The playlist is pure classic standard, from "Au Private" to "Everything Happens to Me," both of whose steady-as-she-goes renditions here would have made Charlie Parker smile. But what would have caused Bird to sit up straight with wide eyes are Mehldau's variations within each chord change; sometimes they swirl and tumble onto a different path while at other times they imperturbably ride with whatever tangent Haden discovers along the melody's surface. These collaborators bring out each other's richest conceptual contours in such ballads as "What'll I Do" and a Haden favorite, "My Love and I," David Raksin's love theme from the 1954 movie "Apache," within whose bridge Mehldau shakes loose some of his most stunning inventions, expansive yet firmly tethered to the song's pulse. Haden has always shown a special watchfulness in piano duets. This one is most remarkable for disclosing many things we either didn't know, or merely suspected, about Mehldau's resourcefulness. And, as another entry on this list will attest, we've come to know a lot more by now.
4.) Cecile McLoren Salvant, The Window (Mack Avenue) – She can neither be stopped nor contained by anybody's marketplace; nor is she in any way daunted by having to immediately follow the most breathtaking and ambitious jazz vocal album of this century. She takes a heady gamble on this one by relying mostly on a single accompanist: pianist Sullivan Fortner, who is as formidable a dramatist with his instrument as she is with hers. Her inflections provide well-timed cues for his embellishments and fusillades. Granted, there are times when their respective strengths almost collide, most notably on that Bernstein-Sondheim rouser, "Somewhere," when their attacks at different ends of the song threaten to shortchange its impact and even confuse their listeners. But even when they threaten to go too far, they end up creating something you haven't heard before – and won't mind hearing again. She's still at the top of her game and, more definitively, her profession. I wouldn't be at all surprised if I'm talking about her again in this space a year from now. I expect to be surprised by what she chooses to do next.
5.) Charles Lloyd & The Marvels + Lucinda Williams, Vanished Gardens (Blue Note) – "We all play folk music," Thelonious Monk once told Bob Dylan. Accordingly, this smoke-cured aggregation of laments, dirges and secular prayers lofted towards what we cringe to regard as Present Day Reality feels very much like the album Dylan would release if he believed now was the time to try more jazz with his blues. Led by tenor saxophonist Lloyd, who at 80 seems to be (in Dylan-speak) a lot younger than he was in his Forest Flower period of the 1960s, guitarist Bill Frisell, bassist Reuben Rogers, drummer Eric Harland and steel guitarist Greg Leisz concoct a spectral blend of American musical java that soothes and jolts at odd hours of the day. Williams, in my judgment, has never had more suitable backup for her leathery vocals, whether on original songs such as "Ventura" or "Unsuffer Me" or on Jimi Hendrix's "Angel" on which you're tempted to imagine an alternate reality where he lived long enough to accompany her. (Maybe Wayne Shorter, or Emanon, can find one.) Still wondering why "Ballad of the Sad Young Men" is an instrumental, but they (whichever [sic] "they" are) may know something I don't.
6.) Joshua Redman, Still Dreaming (Nonesuch) – Jazz needs another tribute album the way I need another Bush, Clinton or Trump to run for president. But this feels far more like an urgent personal testament than yet another solemn salaam to a past master. It's a tribute, perhaps foremost, to Redman's father, which also makes it a homage to the Old and New Dreams band that featured Dewey Redman on tenor, Don Cherry on trumpet, Charlie Haden on bass and Ed Blackwell on drums. And because that group was formed as a kind of early exemplar of an Ornette Coleman repertory band, the younger Redman, Ron Miles, Scott Colley and Brian Blade are taking on the respective roles of the aforementioned (now departed) players, but in their own voices and on their own terms. Thus, these four guys aren't paying homage so much as paying renewed attention to a state of mind, a manner of behaving well under pressure and a means of stretching the collective unconscious. There is one piece each by Haden ("Playing") and Coleman ("Comme Il Faut"). Yet most of the compositions are originals by Colley and Redman, the latter of whom, despite the fearsome range displayed in his previous recordings, shows sweet affinity with the serrated rhythmic patterns and riff extensions of the older band. It's hardly a secret that all was not well between the elder Redman and his son in the former's lifetime. But the peaceful feeling one gets listening to these tracks suggests a more intimate, profoundly deeper peace fully achieved within a tumultuous heritage of undaunted dream weavers.
7.) Brad Mehldau Trio, Seymour Reads the Constitution (Nonesuch) – To get the obvious out of the way, yes, I was intrigued, though mildly disappointed to find out that the title tune refers to a dream Mehldau had wherein the thirsty-grizzly voice of the late Philip Seymour Hoffman was reading the Constitution to him. But it wasn't the only reason I couldn't keep this disc out of my player for most of the calendar year. By now, the things Mehldau has done to stretch possibilities of the piano trio format have become part of the music's turn-of-the-century heroic folklore. But what keeps us attentive to Mehldau and his longtime partners Larry Grenadier (on bass) and Jeff Ballard (on drums) is their expansion of jazz's repertoire, either by broadening the definition of "classic pop" (Brian Wilson's "Friends," Paul McCartney's "Great Day") or by prying open fresh approaches to modernist standards, especially Sam Rivers' evergreen "Beatrice," whose natural bounce is refreshed here with insouciance and ingenuity. To his own compositions, Spiral" and "Ten Tune," Mehldau brings deeper harmonic invention and tonal progressions that reflect the abiding influences of both Bach and Brahms. Somehow, Mehldau has softened his intensity without losing his edge and still stands out among a prodigious — and increasingly crowded — pack of great jazz pianists.
8.) Christian McBride's New Jawn (Mack Avenue) – "Jawn" is Philly-speak for…well, I suppose if a definition of a noun is person, place or thing, then "jawn" is another word for "noun," though I always took it as a Del-Val variant of "joint." In any event, I don't think McBride's piano-less quartet necessarily qualifies as a "new thing," which for jazz heads of earlier generations was a euphemism for what was considered avant-garde from roughly 1959 till 1971. In fact, there's something bracingly familiar in this joint's blend of freewheeling neo-bop and nimble rhythm machinery. Trumpeter Josh Evans and saxophonist Marcus Strickland let fly with seeming abandon while staying grounded to the shifting pocket of percussion lad down by drummer Nasheet Watts and the bassist-leader, who despite his growing reputation as an eminence-gris on his instrument still comes across as the young tyro breaking loose from Philadelphia's storied Settlement Music School. And perhaps what's most gratifying about a small ensemble such as this is that it provides an ideal showcase for hearing what McBride has learned and can teach as a musician and a leader.
9.) Eddie Henderson, Be Cool (Smoke Sessions) – Let me tell you about Eddie Henderson because his is one of the most remarkable jazz-life stories you probably never heard. First of all, it's Doctor Eddie Henderson, having earned a medical degree from Howard University in 1968 four years after earning a B.S. in zoology from Cal-Berkeley in 1964. His general practice came in pretty handy in the years after he'd recorded with Herbie Hancock's Mwandishi electro-boogie band in the early 1970s. Oh, and before all that happened, he took his first trumpet lesson with Louis Armstrong at age nine. This was in large part because he came from Harlem entertainment royalty since his mother was a Cotton Club dancer and his father was a singer whose 1957 cover of "I'm Gonna Sit Right Down and Write Myself a Letter" was a million-seller. If that sounds like too much to take in at once, then we'll make this long story short by saying that Dr. Henderson continued to practice general medicine while playing, recording and touring all over the world. This latest album of polished hard bop, backed by solid gold players such as pianist Kenny Barron, alto saxophonist Donald "Big Chief" Harrison, bassist Essiet Essiet and drummer Mike Clark, comes across as the closest thing to a musical autobiography Henderson has put forth so far. Its selections pay homage to players who have inspired and nurtured him throughout his long career whether it's Hancock ("Toys"), Coltrane ("Naima"), and fellow trumpeters Woody Shaw ("The Moontrane") and Miles Davis (his take on "Fran Dance" just misses equaling Davis' dry-witted studio rendition from 1958, but that's OK because Miles never quite matched it either and Henderson's comes closer than he did). But what boosts this testament towards rare air is its approach to that stout old warhorse, "After You've Gone." Most interpretations play that Tin Pan Alley ditty as a briskly paced taunt. Henderson, however, goes against the grain and slows the tempo, turning what's popularly recognized as a jolly anthem of comeuppance into a wistful rumination on loss. I forgot to mention: Henderson turned 78 last October and is still gigging, recording, broadening his musical horizons and, for all I know, available for consultation.
10.) Noah Baerman Resonance Ensemble, The Rock & The Redemption (RMI) – The notion of a jazz suite devoted to the myth of Sisyphus seems so obvious that you wonder why it hasn't happened before now. (Albert Murray, the late philosopher king of swing, had to have at least sketched out an idea of Sisyphus as the first blues hero…somewhere.) It's likely that the idea was waiting to land on someone like Baerman, a keyboardist-composer who teaches at Wesleyan University and has struggled his entire life with Ehlers-Danlos Syndrome, an incurable malady that affects connective tissue. As one can imagine, the disorder has tempted Baerman to walk away from playing music, but he has gone on and in doing so, found communion with the dogged Sisyphus, whose labors to roll a boulder up a slippery slope are duly honored with an 11-part piece blending funk, gospel, hard bop and (of course) blues. Baerman's Resonance Ensemble provides formidable support for this tribute to perseverance: Kris Allen on reeds, Chris Dingman on vibraphone, Henry Lugo on bass, Bill Carbone on drums and vocal support from cellist Melanie Hsu, Garth Taylor, Latanya Farrell and the late Claire Randall, whose murder at age 26 a year after this 2015 recording session became yet another painful marker on the slippery, treacherous slope of day-to-day existence. Her presence here is part of the bittersweet gift this enterprise bestows on those of us who wake up every day with a boulder in front of us, still standing wherever we left it the day before. The way I see it – and maybe Noah does, too – the rock mocks us, but in doing so, its presence reminds us that we're still alive. And pushing.
HONORABLE MENTION: Orrin Evans and the Captain Black Big Band (Smoke Sessions) Andrew Cyrille, Lebroba (ECM); Luciana Souza, The Book of Longing (Sunnyside); Renee Rosnes, Beloved of the Sky (Smoke Sessions); Jeremy Pelt, Live in Paris (High Note); Fred Hersch Trio, Live in Europe (Palmetto); Don Byron & Aruán Ortiz, Random Dances and (A)tonalties (Intakt); Ambrose Akinmusire, Original Harvest (Blue Note); Dave Holland, Uncharted Territories (Dare2); Matthew Shipp Quartet Featuring Mat Walerian, Sonic Fiction (ESP Disk); Kamasi Washington, Heaven and Earth (Young Turk)
HISTORICAL/ARCHIVAL/REISSUE, ETC.
1.) Frank Sinatra, Only The Lonely (Capitol)
2.) Keith Jarrett, La Fenice (ECM)
3.) Miles Davis & John Coltrane, The Final Tour: The Bootleg Series, Vol. 6 (Columbia/Legacy)
LATIN ALBUM
David Virelles, Igbó Alákoran (The Singer's Grove) Vol. I & II (PI)
HONORABLE MENTION: Ruben Blades, Wynton Marsalis & Jazz at Lincoln Center Orchestra, Una Noche Con Ruben Blades (Blue Engine)
VOCAL
Cecile McLorin Salvant, The Window
HONORABLE MENTION: Luciana Souza, The Book of Longing
DEBUT
Arianna Neikrug, Changes (Concord)